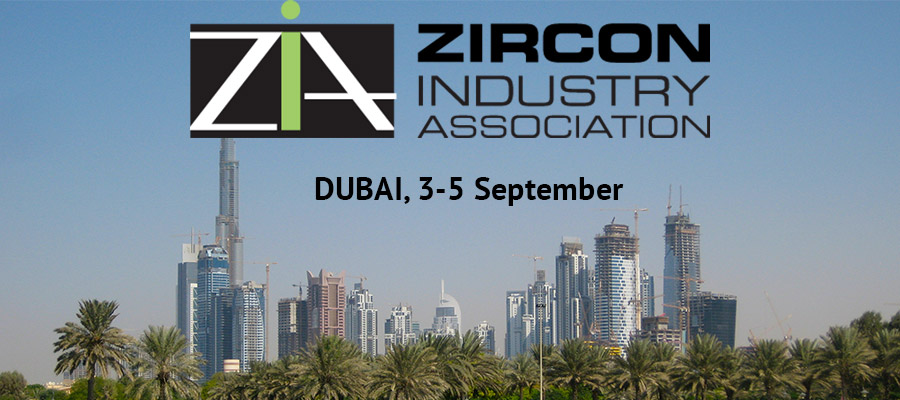 30 Oct

2019 AGM & Annual Conference
DUBAI, 3-5 September
Park Hyatt, Dubai Creek
Join the global zircon industry at its annual conference.
Hear the latest developments in the zircon market
Understand the current technical and regulatory challenges
Gain an understanding of new applications for zircon and zirconia
Network with major players in the zircon world
We are pleased to confirm a speaker line up that will once again deliver insights into the zircon industry. The program this year will focus on the wide-ranging downstream applications of zircon / zirconia / zirconium and includes speakers from the ceramic, nuclear, architectural, shipping and foundry industries.
Tuesday 3rd September
Site Visits

RAK Ceramics – one of the largest ceramics' brands in the world
Ceramin – a regional leader in providing milled zircon and other materials
Wednesday 4th September
Keynote opening address by Abdullah Massaad, CEO RAK Ceramics
Zircon supply / demand evolution: Lincoln Ying CEO Matrix Chemicals
Review of the global zircon market, Gavin Deiner, CEO TZMI
Update on trends in zircon thrifting and substitution: Prof. Javier Garcia, ITC
Trends and developments in China's zircon market: Ruidow, China
Thursday 5th September
Keynote opening address: Global Economic Outlook – Robert Ward, Economist Intelligence Unit
Outlook for China's zirconium chemicals' industry: Alister MacDonald, Alkane
Challenges in the shipping and importing of NORM: TAM International
Use of Zr-based alloys in the nuclear power industry: Simon Marshall, INEL.
Zirconates: new uses and applications: Roberto Dante, 2D to 3D S.r.l.s
Zircon demands in foundry and casting applications: Carlos Olabe, EICI
USA regulatory developments – minefield or opportunity? Charles Simmons.
Thursday 5th September (afternoon)
Conference Workshops
REACH for Dummies
Advanced characterisation techniques of zircon flours
Register online here for ZIA Conference 2019